Description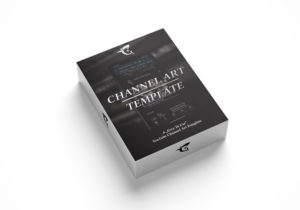 A Easy To Use YouTube Channel Artwork Template for Photoshop (including PNG Template!!).
What is included?
– YouTube Channel Artwork Photoshop File
– YouTube Channel Artwork PNG File
You can use both files as a starting point to create your YouTube Channel Artwork / Banner simple and fast.
Don't Worry: If you don't have Photoshop you can use the PNG file as a template in your photo editing software to create your YouTube Channel Banner! Simply build your Artwork on top of this PNG Layer.
Q&A
1. What do I need to use this template?
Just Photoshop (if you use the PSD File) OR any Photo-Editing Software (if you use the PNG File)! But this template is mostly designed to be used in Photoshop so you can build your Artwork as easy as possible. But since not everyone uses Photoshop: There is a PNG file included as well that you can use as a template too!
2. What's included in this template?
You'll get access to a Photoshop document that includes additional Layer  to create your own YouTube Channel Artwork / Banner. The first Layer is an overview. The second Layer is for your Background and the third Layer for your Key-Artwork.
Template created with the Adobe Photoshop Version 22.4.0.
3. Is this template customizable?
Yes! Of course you can always add additional Layers to create your Artwork.
4. Can I get a refund after purchase?
Due to the digital nature of this template, all sales are final. There are no refunds available.
5. System Requirements:
System Requirements Photoshop: (June 2021)
Windows:
Intel® or AMD processor with 64-bit support; 2 GHz or faster processor with SSE 4.2 or later
Windows 10 (64-bit) version 1809 or later; LTSC versions are not supported
8 GB RAM
Graphics Card: GPU with DirectX 12 support – 2 GB of GPU memory
Monitor Resolution: 1280 x 800 display at 100% UI Scaling
Hard Disk Space: 4 GB of available hard-disk space / additional space is required for installation
Internet Connection
macOS:
Intel processor with 64-bit support; 2 GHz or faster processor with SSE 4.2 or later
macOS Mojave (version 10.14) or later
8GB RAM
Graphics Card: GPU with Metal support – 2 GB of GPU memory
Monitor Resolution: 1280 x 800 display at 100% UI Scaling
Hard Disk Space: 4 GB of available hard-disk space
Internet Connection