Alright today I want to talk about the Apple AirPods Pro because I used them now for a while in all kind of situations and I definitely need to say that I really like them. Exactly that's why I've collected my Top Reasons why I can recommend the AirPods Pro and why you should check them out as well. So let' get started!
AirPods Pro: https://amzn.to/3CyuOyl *
So yeah today it's time to talk about a couple of reasons why the AirPods Pro are worth it. And yes of course the AirPods Pro aren't cheap. Currently you can buy them for around 200€ and that's a lot of money just for some headphones. But I actually decided to invest some more money because I always had these cheap headphones with bad sound (and especially these annoying cables) so it was time to change things up. And a couple of months ago I decided to buy the AirPods Pro because I always liked the InEar Design and the overall Features of them.
BatteryCase
And that's the perfect opportunity to talk bout the first reason and here we need to talk about the Design & BatteryCase. I absolutely love the BatteryCase. First it is really easy to charge it. You can simply use your Lightning cable to do that or what I really like to do is to place them on my ChargingPad. So especially if you already use the Apple Ecosystem that's not a huge problem here. You can easily use your basic setup to charge them. On top the magnets inside of the case are great. I heard a lot of Horror-Stories about low quality magnets in other battery-cases. For example that they can't actually hold them in the box or stuff like that. But those from the AirPods Pro are really nice. You can actually shake them a lot and nothing happens. And what I really like is that they automatically get in the right position, so you don't need to care about that as well. All in all it's actually a small and compact case that I really like.And on top the AirPods Pro are InEar Headphones. I always had the problem that most of the smaller headphones or other AirPod version simply won't fit and they always fell out of my ears all the time. And that's why these InEar Headphones are my favorite version because I don't have to care about any of these problems.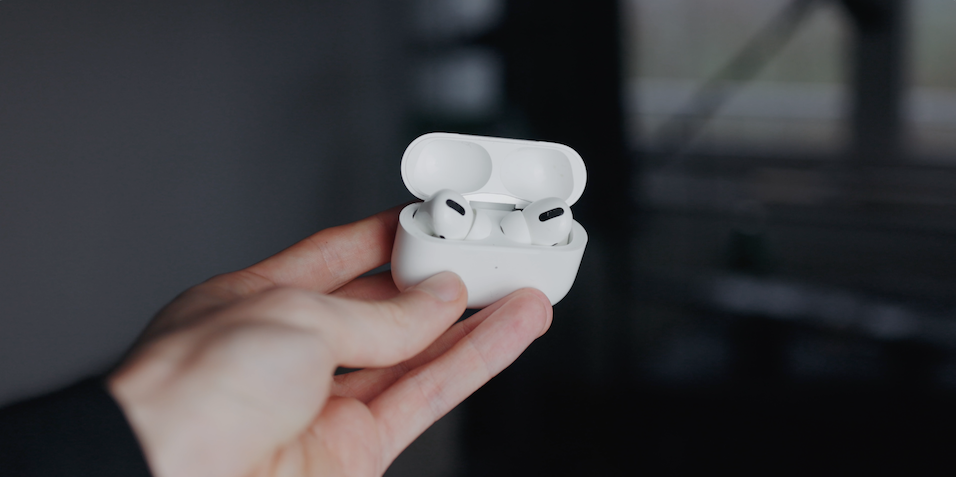 Perfect for the Apple Eco System
But now let's move on and let's talk about the next reason why the AirPods Pro are worth it: And yes obviously the AirPods Pro are perfect for the Apple Eco System.
So yeah I mostly use Apple Devices. For example the iPhone iMac and MacBook Pro and especially in this situation the AirPods are a perfect match. Because for example whenever I use a device like my iPhone I can simply grab the AirPods put them in my ear and my iPhone automatically connects with my AirPods. And exactly the same happens if I use my iMac or MacBook. That is super helpful and it makes the whole workflow way easier because I don't really need to care about all these things. It just works and that's what I want. So if you are looking for an easy all in one solution the AirPods Pro are the way to go.
Features
And that's the perfect opportunity to talk about some features next. And the first feature that I really like is Stop and Play feature.
Whenever you remove one of the AirPods from your ears the audio stops and that is great because in this case you don't have to pause it manually. So for example whenever someone wants to ask you a question you won't miss any parts of a Podcast just because you removed one of the AirPods to answer the question. And right after you use the AirPods again the audio switches to play.
Another feature that I really like to mention is the Noise Canceling
I really like noise canceling headphones because it actually helps to stay focused. And yes I use that all the time when I'm traveling and especially when there are some workers around me. It's just great because you can still do all kind of things like video editing without having any problems. You can also easily switch between the noise canceling mode and a transparency mode. So if you travel around and you might need to hear an announcement in the train (or things like that) you can easily use the second mode. And to switch between these modes you can easily press and hold the AirPods Pro or if you use your computer/phone you can use the drop down menu to do that. So if you are looking for some good noise canceling headphones the AirPods Pro are a great choice.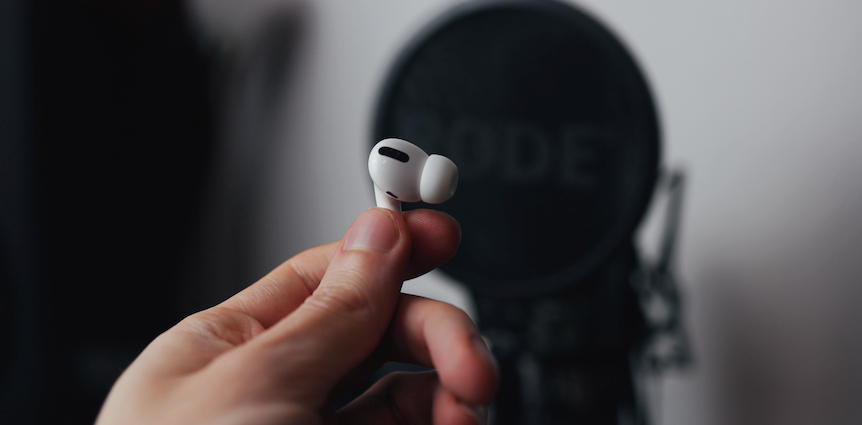 But now let's cover quickly some other features that I really like to mention – First the battery case.
If you want to check the battery status of your AirPods Pro you can easily check your phone to do that. Just open up the Case and a really nice overview comes up that shows all the details. Or if your AirPods are in the case you can check the small LED. If it is green your AirPods are ready to use and fully charged and if it is red your AirPods aren't fully charged.
If your AirPods are not in the case you can check if the Case is charged or not. If the LED is green you can easily charge the AirPods at least one more time – if it's red you should charge the case as soon as possible.
Some other basic features are those typical features like start stop play and these kind of things. So if you press the AirPod once you can Start or Pause the Audio. If you press it twice you switch to the next track. And you press it three times you switch to the previous track
So yeah the AirPods Pro are really easy to use and they offer a lot of great features.
Sound
And of course we need to talk about the Sound. Basically everyone has some different preferences and obviously I can't share any samples here but in my opinion the Sound Quality of the AirPods Pro is awesome. I never had any issues or moments where I thought that the sound quality could be better. Of course there are always better headphones out there especially if we start to compare them with bigger headphones like the Beyerdynamic 770 Pro but if you are looking for some good headphones that you can easily use in all kind of situations and in combination with your iPhone, iPad or Mac the AirPods Pro are the way to go.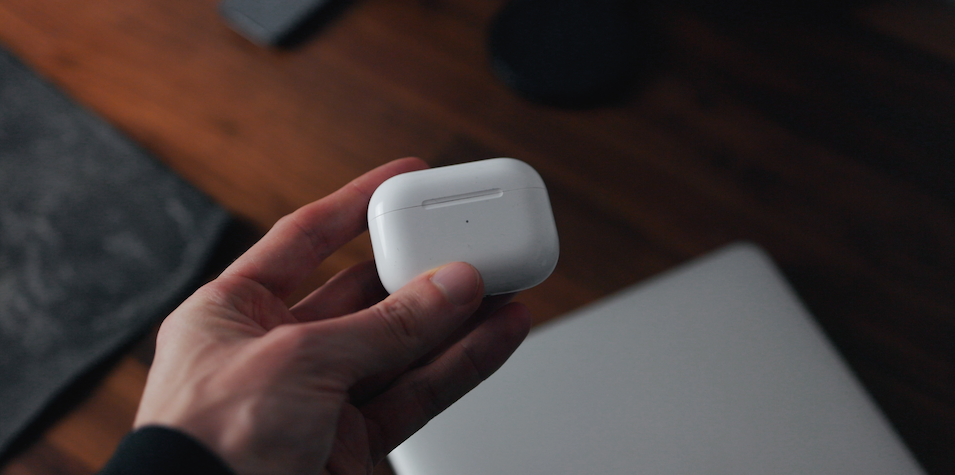 BatteryLife
So yeah the last reason why I really like the AirPods Pro is all about the BatteryLife. And of course this totally depends on your own behavior but for me the battery life is fantastic. Apple says that you get 4-5 hours with single charge and that's in most cases more than enough time. I actually never had a huge problem here – only in some cases I simply forgot to charge the case but yeah that was my fault in all kind of other cases I simply picked them up and they were ready to use. Especially with the battery case you can easily use them over a long period of time and even after a short charging break you can use them again.
So yeah all in all I definitely need to say that I'm really happy that I've bought the AirPods Pro and I can highly recommend them if you are already in the Apple Ecosystem.
AirPods Pro: https://amzn.to/3CyuOyl *